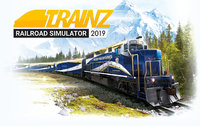 About This Club
Il club dedicato alla scoperta di TRS 2019.
What's new in this club

The psychedelic light display on the monitor is located on the back side, so I cannot see it (I suppose it has been designed by an engineer from down under ). I must confess, however, thay I have been developing a strange fondness for the Jamaican Railways...

What a distraction, how do you know what is happening on the PC display with all that psychedelic light display in front of you. I also notice that all the examples you guys show require you to exercise your mouse hand. For years now I have been so lazy I have used a roller ball device so I only have to exercise my thumb and the keyboard (a Logitech MX Keys) lets me turn off all the illuminated keys so I can see what the trains are doing without the Disco effect. Clearly I am completely behind all you up to date Wizards of Trainz but as a mere man I can only cope with one thing at a time. Maybe I should paly my iTunes and sync the keyboard lights to the music then switch the monitor off

Discreto... Dai uno sguardo a questi. Ciao ALM

Trovato!!! Ora apro una discoteca nel mio studio .

Hi Bob! I'm looking forward to having such a huge amount of fun .

Good News, Now you can start planning how to make your TRS19 sessions compatible with TRS22. N3V have played some tricks with their kuid-3 and kuid-25 files. This was of course done to add to your fun and enjoyment when transferring your routes and sessions into TRS22.

Lo spero bene... il gruppo di continuità pesa quanto il PC ed è circa 4 volte il precedente .

Dai Carlo, torna nei ranghi... Ora non dovresti temere nessun abbassamento o sovraccarico di corrente.

E finalmente il figlio prodigo (che tra pochi giorni compie un anno) é tornato a casa, insieme un gruppo di continuità da 2000 VA (1250 W) che dovrebbe essere sufficiente.

Non ho particolare fretta (né il tempo per usarlo), quindi gli ho detto di portarmelo non appena viene da qualche cliente vicino a me (così risparmio il tempo e la fatica di andarmelo a prendere) Ho già provveduto a sostituire la banalissima tastiera nera che mi avevano dato con una truzzissima tastiera retroilluminata in più colori, così si armonizza allo spettacolo di monitor e PC. Sto cercando un mouse altrettanto tamarro .

Probabilmente si co allegata la mitica tastiera di Barbie, tanto si trovano solo quelle.

Quindi Carlo te l'han già ridato?

Dopo aver provato l'ebbrezza di muoversi a salti ed essere entrato nella nostra dimensione parallela, penso che abbia preso una saggia decisione...

Comunque, penso che il mio tecnico d'ora in avanti si dedicherà solo ed esclusivamente a PC per uso lavorativo...

Tanti anni fa, il mio (ex) cognato, che vantava di essere un esperto di PC (ma non lo era di Trainz) mi diede dell'esagerato quando gli spiegai che genere PC mi occorresse per TS12 e mi invitò a installarlo sul suo potentissimo (a suo parere) PC. Risultato: con un quadrotto vuoto contenente un solo binario e la SD-40 Union Pacific built-in, andava come una presentazione di PowerPoint...

Eureka! Finalmente è stato scoperto l'arcano!! E' stato un piacere, Carlo

Ho numerosi programmi installati sul mio mac tra cui Photoshop e Windows 10 che gira tramite Parallels ma l'unico programma che fa partire la ventola di raffreddamento è Trainz che porta la temperatura del processore oltre i 60°

Colpo di scena: finalmente si è scoperta la causa del problema! Dopo estese ricerche siti di assemblatori in mezzo mondo e ripetuti cambi di configurazione della macchina il tecnico ha scoperto che in particolari condizioni, con giochi richiedenti molte risorse (e Trainz in questo è sempre stato un divoratore di risorse) la triade scheda madre/scheda video/RAM può entrare in conflitto e causare un blocco (che è ciò che mi è successo un paio di volte) con successivi riavvii semi-provvisori e blocco finale. Causato artificialmente il blocco (avvenuto esattamente con le stesse modalità che capitavano a me), ha applicato la soluzione (che mi ha spiegato dettagliatamente ma di cui non ho capito assolutamente un tubo ). Adesso il PC sta funzionando da diversi giorni con le sessioni di prova (un giorno quella di Gigi, un giorno quella di Nicola) dal mattino alla sera senza mostrare problemi: ormai anche il tecnico comincia a conoscere molto bene la Franciacorta e la costiera orientale del lago d'Iseo Dovrebbe riportarmelo domani: speriamo bene, anche se tengo sempre presente la nota massima ingegneristica che afferma:"Il collaudo dimostra unicamente che il dispositivo funziona al momento del collaudo" . Alla prossima puntata, spero di postare qualche schermata in TRS19 e, finalmente, di mettermi al lavoro su quelle che avrebbero dovuto essere le uscite di Natale... @gigi-mmo @D143.3046 Grazie per le sessioni, sono state molto utili!!

Nuova puntata della telenovela: Prima parte: sottoposti ad ogni genere di test, i componenti del PC non evidenziano alcun problema <1° stacco pubblicitario > Seconda parte: il PC ha girato con la sessione automatica sulla Sebino per 12 ore al giorno dal 2 gennaio <2° stacco pubblicitario > Colpo di scena finale: nonostante ciò, mi sostituiranno scheda madre e hard disk <3° stacco pubblicitario > Cliffhanger(*): la scheda madre non è ancora arrivata (*) letteralmente "appeso a una rupe", definizione dei finali tipici delle serie a puntate in cui i protagonisti rimangono in una situazione apparentemente irrisolvibile, lasciando il pubblico in trepida attesa Alla prossima nuova ed elettrizzante puntata...

Certo un buon incoraggiamento per qualcuno che aveva programmato per dopo le feste di chiamare un tecnico per vedere come migliorare l'esistente, dovrei aspettare la fine delle vacanze di Pasqua?

E domani... la nuova puntata della saga

Io per ora uso il trs19 (come già i precedenti) su un quadcore q6600 con 8 gb di ram e scheda gtx titan x, vorrei provarlo sull'altro pc che ha doppio xeon e 48 gb di ram ma la scheda quadro fx5600 non va con trainz

siamo in due mi sa....ho il tuo stesso processore e per ora Trainz regge ancora la pelo con processore e scheda video geoforce 970

Idem per me, il prossimo update, continuatamente rinviata per colpa della situazione causata dal COVID, sarà di tornare alla soluzione AMD con un Ryzen 9 7950x come CPU Ma mi sa che dovrò fare ancora un anno con il mio i7 4970K che sta per fare il nono anno di servizio.