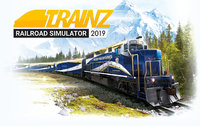 About This Club
Il club dedicato alla scoperta di TRS 2019.
What's new in this club

Grazie !! Consigli molto utili...un aspetto di questa porzione di programma a me sconosciuto..a risultato ottenuto farò di nuovo un immagine ricondizionata.

Se i punti sul carro sono centrati, il problema sta nella macchina. Prova ad aggiungere, nella mesh-table del carico "Scenic" il tag "position": position a,0,0 con vari valori di a, (positivi e negativi) fino a quando non si centra.

OK Grazie mille a tutti....ci lavorerò un po sù....

La megane è quella in origine del ouigo,ma io l'ho fatta verde...

Prova a controllare (con MeshViewer o con il visualizzatore integrato): la posizione dei point a.load nella mesh del carro: se la prima cifra (coordinata X) è zero, il point è al centro del carro (come deve essere), quindi l'errore è nella macchina le dimensioni della mesh della macchina: se le varie dimensioni positive e negative (+/-x, +/-y, +/-z) non sono uguali la mesh della macchina non è stata centrata sul punto 0,0,0 nello spazio 3D in fase di modellazione. Forse si può ovviare usando il tag "position" nel config del carico, in modo che la mesh della macchina sia spostata di quanto indicato nei valori di questo tag. Visti in gran numero a Voghera dietro una Vectron nera (fa anche rima... )

In totale dodici punti..i semi-carro sono due ,ma sono tutti centrati...

Sì..Ma mi sbagliavo sul carro/carri,i punti ho controllato sono sei nel semi-carro e sono tutti centrati sia di sopra che di sotto....Per l'ora loso,ma ho fatto un cambio sotto mentra facevo la sessione..comunque grazie per avermelo ricordato.

I carri sono i GEFCO che si trovano sulla DLS?

Fulvio era di notte' ti ricordo che da surveior puoi modificare l'ora.

ora è solo un esempio...ma in futuro ne farò un po di copie ,in modo da averle in diversi colori.

Buongiorno a tutti!!! Stamattina ho scaricato tra le varie cose,anche una renault scenic,come scenery,ma siccome per campanilismo di parte nel senso che ho questa macchina,ho volutamente averla anche come prodotto da carico.E lo stesso j'ho fatto con una megane,a mentre la megane è riuscita centrata sul carro,la scenic no.Il problema secondo me sta nel carro.Ora per favore vorrei un chiarimento su come posso centrare questa macchina su questo carro..Grazie infinite..Metto anche il carro visto di fianco..

Credo che ci siano anche oggetti da non usare, comunque al momento del test ti sarà richiesto di sostituirli. Come da immagine vedi che ho aggiunto la dima binari che determina l'entrata e l'uscita del modulo e risulta perfettamente in regola, considera che la dima va comunque eliminata. Vai avanti così, un piccolo passo ma un grande passo per un modulo mi pare sud.

Grazie Bob, Roma è bellissima ma io amo la mia citta natale Pienza che molti dei tuoi concittadini conoscono-

@pegaso52 You don't need to provide translations I am using Windows 11 with the default browser and it automatically translates Italian into almost English for me. Years ago Ettore asked me not to use Google translate to change my messages to Italian because it made them unreadable so I stay with the only language I know. I really enjoyed my visits to Rome.

@DennR scusa se non rispondo nella lingua di albione ma sono con il cellulare e in attesa di un controllo di manutenzione. Non ho alcuna intenzione di scaricare tutta quella robaccia Auran- ma mi pare che da qualche parte del nostro sito abbiamo un prolungamento della Sebino, quella si che si può installare. Un saluto a tutti dal policlinico S.Andrea in Roma.

I listed the dependencies for Sebino Lake and then checked the Dependants of all the dependencies and this is the list of Packaged Payware Routes that appeared: - <kuid2:122860:100436:27> Canadian Rocky Mountains - Golden, BC <kuid2:1854:1:12> Healesville - 1913-1920 <kuid2:69871:3529:1> TRS19 - The Innter Kohn Necktion NG Railroad - Model Trainz Layout <kuid2:515942:100169:21> Cornish Mainline and Branches - TRS19 <kuid2:154322:100063:19> ECML EDINBURGH - DUNDEE <kuid2:69871:3499:1> TRS19 - The Innter Kohn Necktion Railroad - Model Trainz Layout <kuid2:154322:101483:23> ECML Kings Cross - Edinburgh <kuid2:523:19723122:18> Kickstarter County <kuid2:605579:100396:15> Midwestern Branch - TRS19 <kuid2:82412:104611:9> Milwaukee Road Avery-Drexel <kuid2:620415:101000:15> Niddertalbahn - TRS19 <kuid2:82412:104711:7> Season Town Northern RR <kuid2:169264:100532:15> Warwick - Wallangarra I am sure that many of them simply share assets but it looks like you do need to install several GB of unwanted routes to get Sebino fully installed.

Repent you miscreants! This is how the Great Kangaroo replied to a heretic who doubted N3V's infinite wisdom and reported ha script function that does not work as claimed in the Wiki: If not working, then it's a bug.Please submit a detailed bug report and we'll investigate. Pentitevi, o miscredenti! Il Grande Canguro ha così risposto a un altro eretico che ha messo in dubbio l'infinita saggezza di N3V segnalando una funzione di script che non funziona come dichiarato nella Wiki: Se non funziona, è un baco.Inviaci una segnalazione di bachi dettagliata e indagheremo.

TRS22 is still under development. The cab fault I reported a week ago has been acknowledged by N3V who have managed to reproduce the "bug" and they are "looking in to it". The lack of carz on the roads that is regularly reported on the forum is a new feature. N3V have decided to go green and improve the environment. The fix they have made is to release a new default region that bans cars and replaces them with PBR grass. We should congratulate N3V for there planet saving effort.

Si, tutti gli oggetti che ho scaricato provengono esclusivamente da dls e tzit (sicuramente ti manca la "copertura a volta" che sta sulla loco a vapore), calcola che io ho scaricato ed installato TUTTO il materiale di tzit (incluso quello obsoleto). Detto questo, non mi è chiaro come procedere.....

Ok ricevuto ho degli mk ma sufficienti per vedere il modulo. Come puoi vedere ho aggiunto un quadretto all'uscita binario posizioni la dima binario modulo, (che io al momento devo ancora scaricare) e decidi dove far il collegamento. Ti ricordo che tutte le dime utilizzate vanno eliminate e che puoi usare oggetti reperibili in dls e tzit. Un saluto e se serve aiuto siamo qui.

mi puoi mandare il cdp del lavoro utilizzando un MP?

Il problema è che il mio scenario non è stato fatto usando come base quello per i moduli con la dima, se trovassi il modo di fare un merge, forse......

Dbr done but the result is the same, checked in store, deleted and reinstalled gives an error reporting the missing of a package, you are right living upside down they think badly.